Background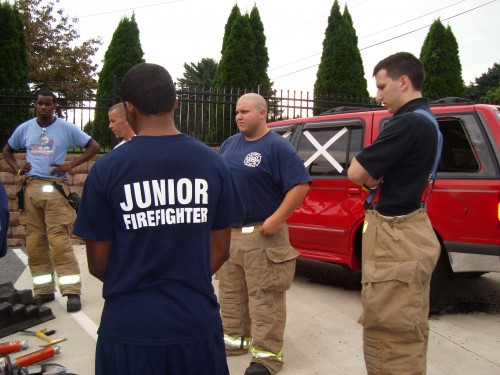 The Reisterstown Volunteer Fire Company has had a virbrant Juniors program since 1968. There are currently over 20 Juniors in the program. They meet on Tuesday nights and train on many aspects of Fire, Rescue and EMS. Once they turn 16 they may join as full members of RVFC, then can ride the apparatus as an observer and will take either Firefighter I or EMT.
Weekly Training
The weekly training is held every Tuesday night all year round. Training may include aspects of firefighting (e.g., ladder work, hose work, fire extinguishers etc) or EMT (e.g., CPR, AED, first aid and some basic intro to EMT). In the past there has been other training that has included going to see the Navy hospital ships (for example). All activities can be counted towards Baltimore County Public School's Community Service Program.
Requirements
Anyone between the ages of 14 and 18 may apply to join the program. They are required to show their report card quarterly and must maintain a B average to stay in the program. They are required to attend 3 of the 4 weeks in a month.
The Juniors program is an exciting program and is a great way to volunteer in the community.
If you are interested, please call or drop by the firehouse to find out more.